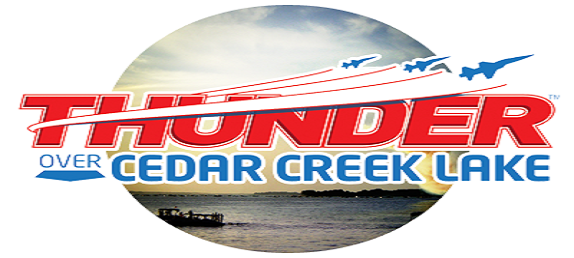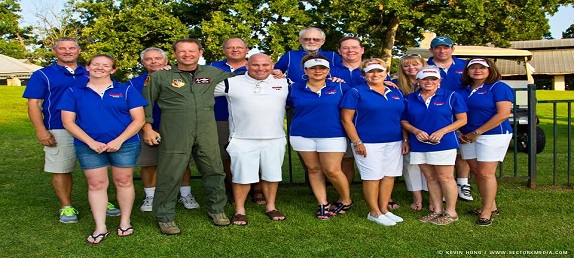 The Cedar Creek Veterans Foundation was established in 2009 by some residents of the Pinnacle Club in Mabank, Texas on Cedar Creek Lake to raise money for well-established non-profits providing support services to military and veterans and their families particularly those from East Texas who were injured in combat operations in Afghanistan and Iraq. The signature event of the Foundation is the Thunder Over Cedar Creek Lake Air Show over 4th of July weekend which has been viewed by over 50,000 people. The air show was started several years ago by Board member and MiG-17 owner and FAA Certified pilot Randy Ball and is one of very few shows performed over water. In addition to the MiG-17, prior shows have featured an Air Force F-16 demonstration team, Air Force C-17, the Tora Tora Tora group, C-130, an L-29, a B-52 bomber, three of only about a dozen B-25's still flying and many others.
The Director of the Air Show is Randy Ball, a 6th generation Texan and the grand son of a World War II B-17 bomber pilot. Randy has over 30 years as a pilot and still works as an Airline Captain. With over 24 years of experience in air shows, he has flown in over 1,000 performances. His 1,000 hours of time piloting a Russian Jet Fighter has been recognized as he has a Level I Jet Aerobatic Day and Night rating; the ONLY JET FIGHTER PILOT IN NORTH AMERICA. As Director, Randy works to get the performers sequenced in the Air Show to provide the thrills and excitement that has been the corner stones of this event since the beginning.
Amber DiLane Homes has had the honor and privilege of being the Title Sponsor for 4 years in a row now for the Cedar Creek Veterans Foundation- Thunder Over Cedar Creek Lake Air Show. It brings ADH great joy to be involved and to help support such a wonderful foundation that honors our Veterans.
During 2016, the Cedar Creek Veterans Foundation will once again have three events to support the three Armed Forces Veterans charity organizations that the proceeds are distributed to; the The Fisher House, Hope for the Warriors, and the< Navy and Marine Corp Relief Society. In addition, the Foundation will also provide financial support to the Payne Spring Fire Rescue for their stand-by emergency services during the Air Show. Since the initial Air Show, the Foundation has provided almost $100,000 to these organizations to provide for Veterans and their families.
The first event will be the Cedar Creek Veterans Foundation Golf Classic. This will be conducted at the Pinnacle Golf Club in Payne Springs on Monday June 6, 2016. The profits from the tournament will benefit all three charities and will give the towns, local businesses and communities a chance to support our veterans and troops. Come out and support our special guests, several soldiers from Brooke Army Medical Center who are recovering or who have recovered from injuries received in the service to their country. We'll be honoring local veterans and military for their service to our country. You can contact Gayle Robinson at 903- 451-5054 if you are interested in playing in the golf tournament or becoming a sponsor.
The second event will be the Cedar Creek Veterans Foundation Pilot's Party, to be held on Friday, July 1, 2016. This social hour and dinner is held to have our performers available for interaction with residents and supporters of the CCVF. There will be opportunities to have photographs taken with the pilots and their supporting teams as well as special entertainment.
Our annual Air Show, " Thunder Over Cedar Creek Lake", is the third event that will be held on Saturday July 2nd, 2016. We expect to have an even more exciting Air Show than last year. Most of the pilots who fly in our show donate their fees in order for us to provide more money for the military charities we support. We've spent a great deal of time making sure that the money we donate gets to the people it's intended to benefit. Randy Ball, who is the Air Show founder and pilots our premier military aircraft, a MiG 17 fighter, works very hard to make this a thrilling, dynamic event for the Cedar Creek Lake area. He is shown in the flight suit in the group photograph above. We are now the 4th largest air show in the southwest and the only one over water!
Over 52,000 men and women have been wounded in armed conflicts around the globe since the events of September 11, 2001. A lot of them will need continuing medical treatment throughout their life. The Cedar Creek Veterans Foundation is dedicated to helping make these soldiers and their family's lives a little easier. If you would like to help, you can go to ccveteransfoundation.org and make an on line donation. Cedar Creek Veterans Foundation is a 501(C) (3) charity with an A+ rating. Thunder Over Cedar Creek Lake Air Show is held annually on the July 4th Holiday Weekend and starts around 6:00 pm. and continues after dusk, when the after burners glow and the lake waters calm.