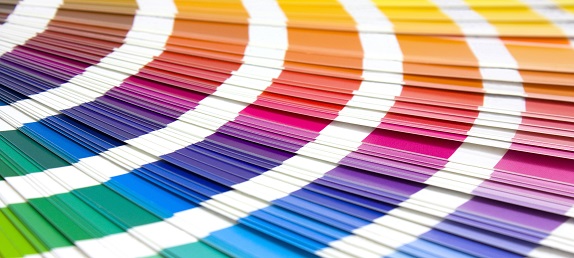 Colors Speak Louder Than Words
If you find choosing colors overwhelming, hopefully these tips will help. Whether it's "What goes with this purple sofa?" or "What color should I paint my bedroom?". While everyone's space is different, we offer some general guidelines for being smart about color for both interior and exterior spaces:


Interior spaces
Even if you're painting just a single room, you don't want to start without giving the color a lot of thought. I know oftentimes people say "Oh, it's just paint" but why not get it right the first time?
Take it down a notch.
Paint swatches can be misleading. Most often, the colors that look the best on the swatch are the ones that won't look as nice on the walls. A shade that looks buttery and warm in a 1-inch square can resemble neon yellow in the bedroom. How to get around that? Choose a shade that's a bit duller than the one you love. You may not think it's bright enough, but when they get blown up to wall size, those shades have a lot of color to them.
Make a bigger sample
Do we really expect you to chose a paint color for your beautiful new home from a 1-inch square? Absolutely not.... We encourage our homeowners to visit their local Sherwin-Williams store and purchase a "Color to Go" pint of the colors that you are considering and go paint a small area on the wall in the very room you are making the selection for.
Don't change your mind halfway through
There's a point when it starts to go up that you're going to panic. It doesn't matter how great the color is - it's new, it's different, it's not painted from wall to wall yet. If you get half a wall painted and you hate the color, don't paint over it immediately. The biggest mistake homeowners can make is to change the color while it's going up. Sleep on it. Don't make any quick judgments. It takes about 48 hours for your mind to adjust to the new color and see it how it really is.
Neutrals aren't always a safe, easy choice
If you're more comfortable with neutrals, that's fine. But they're not foolproof. Look at the undertones. Are your beige sofa's warm undertones at odds with the cool gray of the walls? They are actually fighting each other a little bit. Look for neutrals that have the same level of warmth, then add a pop of color with accessories or a single accent wall.
Don't be afraid to commit to a color you love.
Some people have a lifelong love for a particular shade. If given a choice, do you always opt for the teal shirt, the aquamarine car, the blue-green phone cover? If that's you, go for it! Have a teal sofa. You're not going to get tired of it; you haven't been tired of that color your whole life. But check your level of commitment. You've never particularly cared for orange, but now that it's trendy you're loving it? You might not want to go for the orange sofa so buy some orange throw pillows and see how you feel in a year.
Exterior spaces
You usually don't have total freedom when painting the outside of your house - but having fewer options can make decisions easier. Here are five key factors using the acronym FRESH to help homeowners find the right color.
Fixed features: Brick, stonework, roofing materials aren't going to change. Narrow your choices to colors that will work with the elements already in place.
Regional colors: When you're living in East Texas, the exterior colors that are appropriate are not the same as they are in New England or up North. A New England Saltbox house might look perfectly tasteful painted the icy blue of Atlantic waters, but that same blue could look garish on a ranch house. If you want to be adventurous, go small: Try painting the door a brighter color or using bolder accent colors.
Environment and surroundings: Are you in a neighborhood? Then you probably don't want the same color as your next-door neighbor. But you can take cues from the other houses on the block. You want something that stands out in a positive way.
Style of the home: There are certain colors that work better on certain style houses. Bungalows and Victorian homes can look right with brighter paint, but a Spanish-style home with a red tile roof might need a neutral trim that doesn't compete. Again, look at houses like yours in your neighborhood and on our website at www.amberdilanehomes.com.
Historic colors (or homeowner's association): If you live in a historic district or belong to a homeowner's association, your color choices may be restricted. If you need to get approval, do so before you start painting.